We are Wye Valley Garage - Land Rover Specialists
Wye Valley Garage is a family run Land Rover 4x4 Specialists business providing fully qualified mechanics skilled to work on Land Rover and other 4x4 vehicles with many years of experience.
The government has recognised the skills and expertise available in the independent sector, in that the Office of Fair Trading have reported that "Franchised dealers are significantly more expensive than independent garages and overall there is no difference in the quality of the services offered by each"
Even if your vehicle has a manufacturer's warranty, Tata who owns Land Rover has already stated that any competent workshop can service their vehicles without infringing warranty. The EU guidelines on competition require this freedom of choice for vehicle owners, although they have added that "equivalent quality parts" must be used, so that poor quality, unreliable parts are not fitted. Click to see the BBC report....
Why are our prices so competitive? Franchised Dealers have to pay for expensive showrooms largely out of the profits made from selling labour and spare parts. We operate from modest premises with far lower overhead costs.
We not only do the job properly but in some cases, the servicing schedules used by us are more thorough than those used by the Franchised Dealers.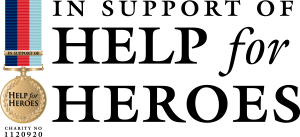 We support the Help For Heroes Charity and donate a percentage of sales to this charity to help our men and women of the Armed Forces who are our heroes.
We Also Work On Other Vehicles
Please remember that we also work on other makes and models other than Land Rovers.
We can work on your Alfa Romeo, Audi, BMW, Chevrolet, Chrysler, Citroen, Daihatsu, Fiat, Ford, Honda, Hyundai, Jaguar, Kia, Lexus, Lotus, Mazda, Mercedes, Mini, Mitsubishi, Nissan, Peugeot, Porsche, Renault, Rover, Saab, Seat, Skoda, Smart, Subaru, Suzuki, & Toyota to name a few.
So for all your 4x4 servicing or spares contact Wye Valley Garage, Ross On Wye's leading 4 x 4 specialists.